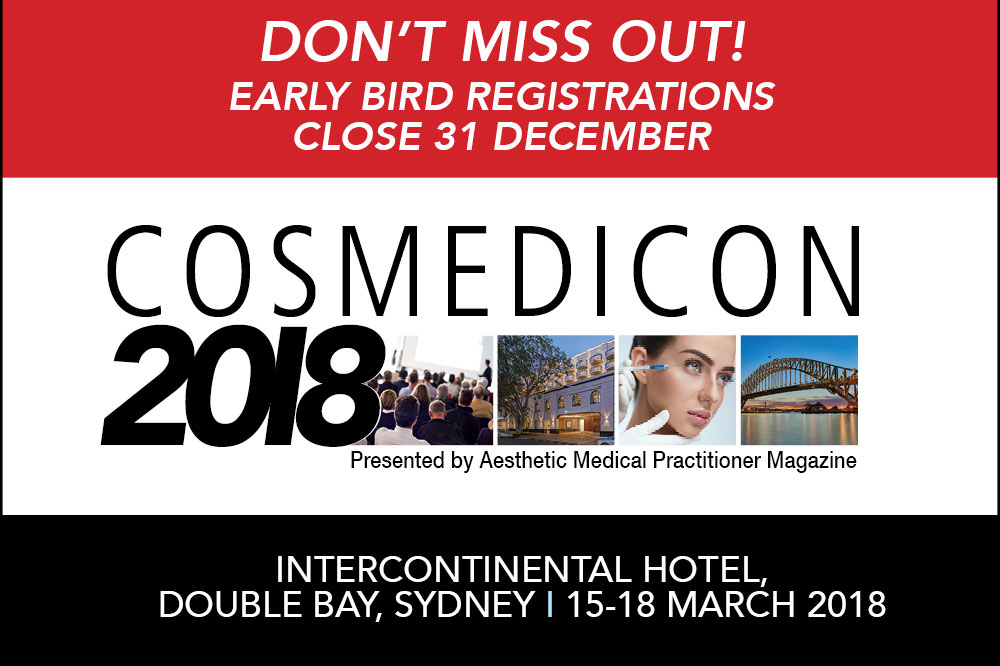 Aesthetic Medical Practitioner, Australia's only trade magazine for the cosmetic medicine industry, comes to life at the inaugural COSMEDICON conference on 15–18 March, 2018.
Aesthetic Medical Practitioner presents COSMEDICON, Australia's new must- attend aesthetic medical conference, to be held on 15-18 March, 2018 at the exclusive InterContinental Hotel in Sydney's Double Bay.
Industry veterans Bella Media, the publishers behind Aesthetic Medical Practitioner, have developed a carefully selected plenary programme and workshop agenda designed to inspire and educate.
The two-day scientific programme will feature prominent international and local thought leaders delivering their insights and practice pearls on the most relevant and cutting edge techniques and products in minimally invasive cosmetic practice, including facial rejuvenation, body sculpting, skincare and laser.
The theme of the conference is 'Invest in Success'. It will encourage excellence in all aspects of cosmetic medicine – not only in clinical practice but also through business strategies on how to effectively set up, manage and eventually on-sell an aesthetic medical practice, as well as expert advice from some of today's leading social media influencers.
With an audience comprised of plastic surgeons, cosmetic surgeons, dermatologists, cosmetic doctors, aesthetic nurses and clinic owners, COSMEDICON offers a unique multi-disciplinary forum to address matters of interest and concern to the industry. A series of panel discussions throughout the two days will provide for frank and collaborative discussion on key issues and hot topics affecting the industry today.
In addition to the scientific programme, COSMEDICON will feature a full day of interactive live workshops and two intensive multimodal Facial Injectable Training (F.I.T) masterclasses, catered to either beginner or more advanced levels of practitioners.
The post-conference full-day masterclass, the 'Business of Beauty', is a separate educational programme open to practice managers, aestheticians, dermal clinicians, nurses and allied professionals. It will feature business strategies, practice management pearls and new techniques at the intersection of beauty and cosmetic practice.
In true Bella Media fashion, COSMEDICON will also deliver a lavish and fun social programme – a White Party welcome reception and Hollywood Red Carpet gala dinner, rounding out what is set to become the industry's most energetic and engaging cosmetic medical conference.
CONFERENCE HIGHLIGHTS:

Renowned international and local speakers

Interactive multidisciplinary panel discussions

Industry 'speed dating' – hear about the latest devices and product ranges in a fun, novel format

Interactive workshops with live demonstrations

Full day beginner Facial Injectable Training (F.I.T) training led by Dr John Flynn

Intermediate to advanced F.I.T training led by Dr John Flynn

Laser safety officer training course and accreditation

'Invest in Success' – how to set up and run a successful practice

'Business of Beauty' – masterclass in practice management and dermal therapy techniques

White Party welcome reception Hollywood Red Carpet gala dinner

SPEAKERS INCLUDE:

Kerri-Anne Kennerley

Dr Konstantin Sulamanidze

Dr Phillip Artemi

Dr Benjamin Burt

Prof R Glen Calderhead

Dr John Flynn

Dr Joseph Hkeik

Dr Neal Hamilton

Mr Ian Holten

and many more….
Visit www.cosmedicon.com.au for more information.