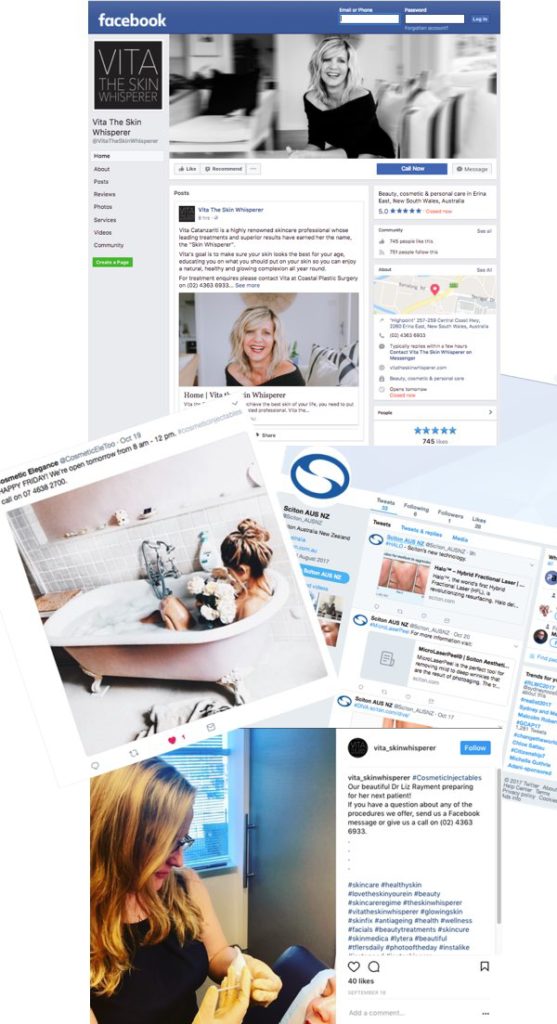 Why choose Bella Media to do your Social Media?
Bella Media is Australia's No.1 communications expert in the cosmetic enhancement and beauty industries. As the publishers of CosBeauty Magazine (previously Cosmetic Surgery & Beauty Magazine) and Aesthetic Medical Practitioner publication, we have more than 18 years of experience publishing and marketing in the aesthetic medicine space. With a team of expert social media marketing specialists, designers, copywriters and web developers, for an affordable monthly fee we will tailor your social media marketing to make your message stand out. Social media is about conversation. So let's talk. We can help you listen to, understand and engage with your customers through social media. And by social media, we don't just mean Facebook.
WE WILL:
Create Facebook, Instagram and Twitter accounts (if required)
Boost your practice's brand loyalty
Increase your online exposure
Create inbound leads
Design bespoke posts across all three platforms
Create content (in accordance with the medical and social media guidelines)
Create and manage promotions to boost traffic and sales (boosted posts based on an agreed monthly spend by client)
Engage with your online clients
Respond to comments and messages
Provide a dedicated Social Media Manager
OPTIONAL EXTRAS:
Custom designed packages available
Unique blog posts written by our expert medical journalists. Regular blogs drive traffic to your site and are great for social media content.
Create Newsletter content. Regular newsletters maintain contact with your database clients and keeps you top of mind. They are excellent for promoting new products and services or seasonal specials.
Resources
To help get you started and keep you on track, why not download our social media fact sheets. We've compiled a number of resources designed to help you understand and make the most of your social networking.
Contact Us
With our understanding of the social media space, combined with our experience of the beauty and cosmetic industries, we can help forge a successful strategy that works for your brand. So start the conversation with us today.